Site maintained for archival purposes
CAST.IRON's Plans
Plans to Reinstate the Cambridge - Huntingdon Railway (December 2003)
The CAST.IRON scheme provides a rapid public transport system, running mainly along the disused railway corridor. It also provides a railway service from the Cambridge/Huntingdon corridor to London and interconnections to other destinations on the national rail network.
The capital cost of the scheme is £30 Million.
The system has a passenger capacity of 10,000 journeys per 12-hour period. It would operate at break-even by carrying 2,100 peak period commuter journeys per working day.
CAST.IRON recommends that the scheme should be implemented in the following stages:
Stage
Scope
Construction Cost
Construction time
1A
Cambridge Science Park to Swavesey. Peak service frequency 20 minutes.
Journey time 19 minutes, using a maximum running speed of 70mph.
Pilot service, operating during the construction of Stage 1B.
£7 Million
9 months
1B
Extension from Swavesey to St Ives.
Link-up with Network Rail from Science Park.
Peak service frequency 15 minutes.
£11 Million
9 months
2
Extension from St Ives to East Huntingdon.
Peak service frequency 15 minutes.
£12 Million
12 months

These stages will produce a rapid passenger transport system linking population centres from Cambridge to Huntingdon.

After these stages have been completed, a fourth stage could then be considered:

3
Connection onto the East Coast Main Line at Huntingdon, to form a through passenger/freight route on the national rail network.
The phased plan set out in this section can be implemented quickly and with very low risk, because it requires only established and proven technologies and techniques. Each element in the costings is work to be done by an established contractor in the industry. The costings are in line with similar work recently carried out by the same contractors. Hence, for example, we can be confident that track renewal for Stage 1A can be carried out over a period of only 2-3 months and for the budgeted cost.
The civil engineering works have all been costed for operation of Heavy Rail, all technical specifications are in line with normal Heavy Rail practice and all trains will be conventional main line train stock. However during Stages 1 & 2 train operation will be under lightweight procedures, which allows us to achieve these attractive costs and timescales for deploying this rapid transit system.
During Stages 1 & 2, the CAST.IRON system will be operated as a self-contained railway from the Science Park to Huntingdon. A link-up with Network Rail will be introduced at the Science Park in Stage 1B. There will be an electrified Network Rail spur from Chesterton Junction, crossing Milton Road to meet the CAST.IRON system at the Science Park. The spur will allow trains from London, which currently terminate at Cambridge, to be extended to the Science Park. The CAST.IRON timetable will be integrated with these trains, offering passengers a cross-platform service from the CAST.IRON network on to London.
As noted above, the CAST.IRON system would operate on a break-even basis if it were to carry 2,100 peak period commuter journeys per working day. The CHUMMS study predicted that a heavy rail system would attract 10,000 journeys per day and create a significant modal shift away from car travel along the A14. This level of usage would clearly be sufficient to fund a frequent railway service on an ongoing basis. CHUMMS anticipated that over 2,000 of these journeys would involve bicycles, significantly reducing the size of car parking facilities required.
The ongoing viability of a railway service is further strengthened by two additional factors, which were not considered in CHUMMS:
The Northstowe development lies on the proposed railway route; its 6000 households will generate substantial additional commuter journeys both to Cambridge and to St Ives/Huntingdon.
Under the CAST.IRON scheme, passengers wishing to travel between the Cambridge/Huntingdon corridor and other locations (for example Stansted or London) will have an attractive public transport option, which is not provided by other schemes. This will increase still further the modal shift and the associated environmental benefits of a railway scheme. It also strengthens the financial viability of the CAST.IRON system: through ticketing to remote destinations will provide the CAST.IRON system with significant commission revenue on the onward journey portions.
New Trends in Railways
The costed proposals on these pages take advantage of new trends in the railway industry. It is time to take a fresh look at the cost and benefits of operating a commuter railway between Cambridge and Huntingdon.
The most important trend is the emergence of new passenger-carrying private railway systems, able to run on a completely different cost basis from the national rail network. The new private railways are emerging as modern transport systems, supported by established railway contractors - they are not 'heritage railways'. The costings in this section include provision of station and other facilities up to modern expectations.
All of the skills required to run this railway are available to CAST.IRON from existing players in the industry. For example, our trains will be operated by one of the existing Train Operating Companies, probably one of those that currently run charters across the national network. The trains will be provided and maintained by one of the national Rolling Stock leasing companies. The recent opening of the Wensleydale Railway as a community-backed private railway has shown that such a system can be certified and operated to national safety and other relevant standards.
The railway can be reinstated from Cambridge to St Ives without the need for compulsory purchase of any land outside the existing railway reserve. A railway is the most compact and environmentally friendly rapid transit option along this route. The route from St Ives to Huntingdon can be constructed mainly along land already in transport use.
There is an attractive business case for construction of the CAST.IRON system. CAST.IRON is currently in discussion with investors about its business plan.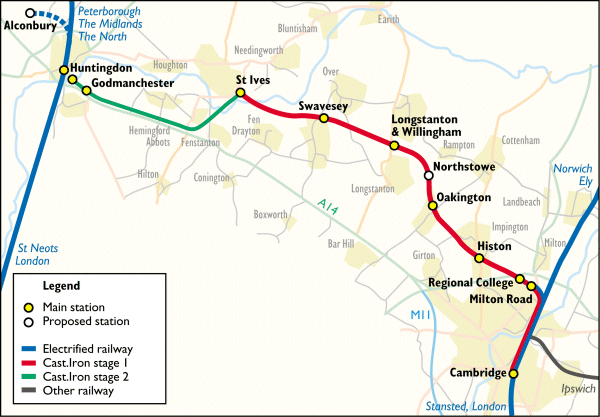 Next - Motivations and Costings
Site last modified January 2022