Site maintained for archival purposes
CAST.IRON - The Story So Far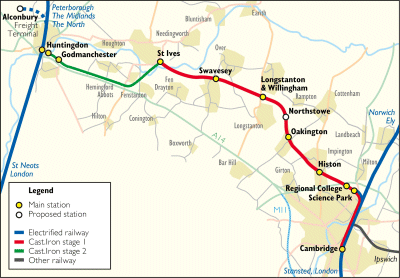 Opened in 1847, the railway line from Cambridge via St Ives to Huntingdon carried passengers and freight until 1959, when the St Ives to Huntingdon section was removed. Services continued into the 1960s on what was now a branch from Cambridge to St Ives but private car use eventually forced passenger services to close in 1970.
Occasional passenger charters visited the branch until the late 1980s, when the Railway Development Society ran two all-day Saturday services from Swavesey, three miles southeast of St Ives, to promote reopening. The most successful of these started the day with a two-car first-generation diesel multiple unit running as a shuttle but the sheer number of people using it to go into Cambridge meant that an additional thee-car unit had to be brought in from Norwich to bolster the final return service of the day.
A daily - or rather nightly - aggregates train continued to run to and from Fen Drayton pits, between Swavesey and St Ives, via Cambridge to Kings Cross until the early 1990s. These trains were up to 1000 tonnes in overall weight.
Track exists, albeit overgrown and largely in poor condition, from Fen Drayton (where there is a runaround) to its south-facing connection with the northbound ('down') Cambridge - Ely main line at Chesterton Junction. There is a crossover to the 'up' line.
Aggregates trains continue to use the crossover and junction, as there is a spur off the St Ives line into a major facility at Chesterton Junction Yard.
In 1994, Cambridgeshire County Council produced a leaflet in favour of reopening passenger services on the line.
The St Ives Line beyond was formally closed on 2nd August 2003 (q.v.).
Site last modified December 2023